This content guide how to register post type with smart-framework, it is very easy.
After integrate SmartFrameWork to your theme or installed & actived it. (If still not reading, read how to do it here: http://smartframework.g5plus.net/docs/how-to-use-integrate-smartframework-to-your-theme/)
IMPORTANT: you must add filter named "sf_register_post_type" with structure below to define Post Type.
Do follow: go to edit functions.php file in your theme or somewhere, add code:
add_filter

(

'sf_register_post_type'

,

'TYPE_YOUR_FUNCTION_NAME_REGISTER_POST_TYPE_HERE'

)

;

if

(

!

function_exists

(

'TYPE_YOUR_FUNCTION_NAME_REGISTER_POST_TYPE_HERE'

)

)

{

function

TYPE_YOUR_FUNCTION_NAME_REGISTER_POST_TYPE_HERE

(

$post_types

)

//Define your Post Type here follow syntax

//View example code below to easier understand

$post_types

[

'YOUR_POST_TYPE'

]

=

array

(

//you can changed to value as you want

'label'

=

>

esc_html__

(

'A PLURAL DESCRIPTIVE NAME FOR THE POST TYPE'

,

'sfdemo'

)

,

'singular_name'

=

>

esc_html__

(

'NAME FOR ONE OBJECT OF THIS POST TYPE'

,

'sfdemo'

)

,

//You can register more post type by clone code above to here
Example: register one post type named "property"
add_filter

(

'sf_register_post_type'

,

'sfr_register_post_type'

)

;

if

(

!

function_exists

(

'sfr_register_post_type'

)

)

{

function

sfr_register_post_type

(

$post_types

)

$post_types

[

'property'

]

=

array

(

'label'

=

>

esc_html__

(

'Properties'

,

'sfdemo'

)

,

'singular_name'

=

>

esc_html__

(

'Property'

,

'sfdemo'

)

,
Or register from 2 to more post types at the same time
add_filter

(

'sf_register_post_type'

,

'sfr_register_post_type'

)

;

if

(

!

function_exists

(

'sfr_register_post_type'

)

)

{

function

sfr_register_post_type

(

$post_types

)

$post_types

[

'property'

]

=

array

(

'label'

=

>

esc_html__

(

'Properties'

,

'sfdemo'

)

,

'singular_name'

=

>

esc_html__

(

'Property'

,

'sfdemo'

)

,

$post_types

[

'agent'

]

=

array

(

'label'

=

>

esc_html__

(

'Agents'

,

'sfdemo'

)

,

'singular_name'

=

>

esc_html__

(

'Agent'

,

'sfdemo'

)

,
Result: you will see in BackEnd have 1 or 2 post types appear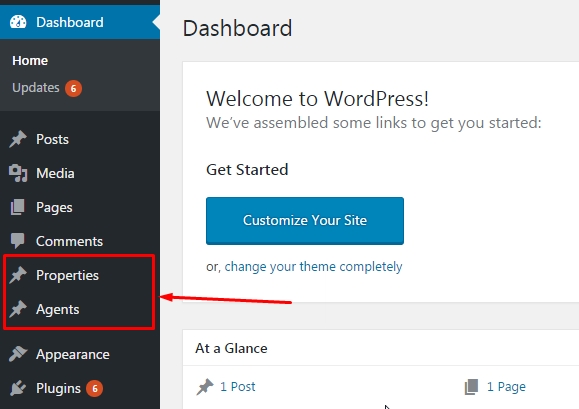 That is success. If not run or any problem, please re-check your code carefully or contact us via Support page.
Thanks